Siobhan Norris draws from past experiences to help guide student veterans through their educational journey.
Siobhan Norris is the Associate Vice Chancellor for Military Affairs at Fayetteville State University.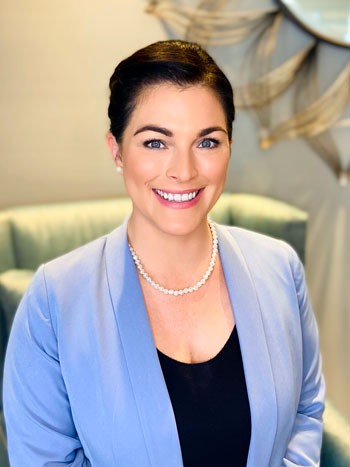 Fayetteville State University is located close to Fort Bragg in North Carolina, which is home to the Airborne and Special Operations Command. FSU is also a historical black college founded in 1867 and has a long legacy of educating those who have served in the military. Nearly 30% of the entire student body population is military connected. Siobahn is a U.S. Army Military Police Corps veteran, the second woman in her family to have served in the military, was an active duty military spouse for 17 years, and is a first generation college graduate. She has been working in the military community for over 20 years and in the higher education industry for almost 10 years.
At an early age, I learned how important education is, especially for women and other minorities. I was raised by my mother who had dropped out of high school when she was younger, and we lived in chronic poverty until she went back to school to get her GED and a medical assisting certification. From there, she was able to get decent paying jobs that elevated our living situation. I saw that education can serve as a conduit to economic upward mobility.
Once I transitioned out of the military in 2004, I had difficulty finding employment because I didn't have a degree to support my professional experience. I drew upon the lesson I learned in childhood and applied to college. Going to school also supported my transition from active duty. I struggled when I left, and college gave me a community and a new mission. And after I graduated, I left with a newfound passion: supporting other transitioning service members, veterans, and military spouses during their educational journey.
Military connected students are non-traditional students. Many of them are working adults with families and other adult responsibilities and should not be treated as a traditional student. Additionally, some universities are not aware of the value that military connected students bring to their campus and are also not equipped in understanding military culture. This creates barriers for military connected students and often leaves them feeling frustrated and overwhelmed by the bureaucracy that exists in high education. Ensuring that universities have military supportive policies in place while also providing a Veteran Service Representative on campus can truly make a difference in the lives of military connected students.
I can identify with our military connected students because I've experienced much of what they have. We may not have been stationed at the same places, but I understand what it feels like to be active duty, to go through the transition process and facing so many unknowns, to being a military spouse juggling a myriad of responsibilities. I can empathize with them which I believe builds rapport. And since I'm typically older than most of our military connected students, I can draw from past experiences to help guide them through their educational journey and I can share valuable resources that helped me when I was in school.
My experience was filled with highs and lows to be honest. When I started my undergraduate program, I was 23 years old, just transitioned from the Army, had a brand new baby, moved to a new town where I didn't know anyone, bought my first house using my VA home loan, and my spouse was deployed to Iraq. It was a lot to handle but I knew I needed a degree if I wanted to be successful. I enrolled in an online program which provided me the flexibility and convenience that I needed being a new mother with limited childcare options. While I didn't have access to the traditional resources I would have if I were taking seated classes on a campus, I did have a lot of support from my friends and family back home and my professors were amazing.
After stopping and starting my degree a few times due to us moving to new duty stations, I finally graduated and was ready to pursue my master's degree. My graduate program was challenging but a lot of fun. It was more traditional as I attended class in person, and I could be involved with our Student Veteran Association as well as our Graduate School Association. And I loved that I was able to walk across the stage at graduation which was something I couldn't do for my bachelor's degree. It was really meaningful and the university that I attended was incredibly supportive of its military connected students.
While student veterans are adaptive and resilient, there are a few challenges they can experience. First, it can be challenging to identify the right school to attend. Also, understanding the differences in accreditation is critically important. Unfortunately, I've seen some veterans who have been taken advantage of by predatory schools where they ultimately waste their GI Bill benefits on programs that aren't even recognized.
Second, transitioning to a college campus can be difficult for some veterans given that they are older than many of their class peers. However, many schools, like FSU, offer a Student Veteran Center, where they can find their community on campus.
Given my role sits within the Chancellor's Office, I don't have daily interactions with student veterans like I did when I worked in Student Veteran Centers. That being said, when we do convene, I hear how much they love attending Fayetteville State. They speak so highly of their professors and the unique opportunities that we can provide them in and outside of the classroom. I also hear how dedicated they are to their education and how they balance employment, homework, and family responsibilities.
This is the first time I've worked at an HBCU, and it really opened my eyes to how minority serving institutions are typically not given the same support or resources that a PWI receives. Thankfully, the current White House administration is placing a heavy emphasis on increasing equity for HBCUs and MSIs and Fayetteville State University is receiving significant support from our UNC System. We just received a historic amount of funding from our state which will provide us the opportunity to increase services and support to all our students, including military connected.
Given that traditional student enrollment is declining, I anticipate that more universities will focus on the adult learner population, which includes military, to ensure they are meeting their enrollment goals. Universities will also have to be innovative and adaptive to the changing landscape of learning which means providing more online support and access to programs that align with the needs of adult learners. This should also include having dedicated staff and academic advisors to support the student veteran through their academic journey.
Never stop learning, even after you graduate. Continue to pursue professional development and remember that networking is essential to your success. Read books, watch TED talks, listen to podcasts, and take workshops to remain knowledgeable and competitive. And unfortunately, you are going to have to get comfortable moving out of your comfort zone. For example, I dreaded any experience that required me to speak in front of large crowds. However, I knew it was necessary for me to master this skill, so I forced myself to take opportunities where I had to speak in public. I practiced, practiced, and practiced some more until I started to feel confident. Even now, I still get a little nervous, but I know that I can draw on my skills that I've learned and can walk out on a stage with confidence. Learning should be a lifelong practice. I also recommend finding mentors in and outside of your industry. They will be your lifeline at times. Lastly, take calculated risks and have faith in yourself. You will do just fine.