Failure Is Not an Option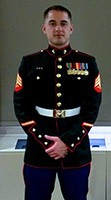 David Neher is a strategy and innovation advisor at CVS Health, focusing on digital enablement of care and improving the patient experience. Originally from Sedalia, Missouri, he served as a weather forecaster in the Marine Corps at posts in the United States and Japan.
After his military service, he studied economics at Columbia University's School of General Studies, earning his B.A. in 2017. David started his career at the management consulting firm Oliver Wyman, working for several years at their New York City and Chicago offices. He enjoys cooking, playing with his rescue dog Izzy, and watching rugby. 
3 Courses designed for veteran transition success
We're Here to Help!
Columbia University launched the Center for Veteran Transition and Integration to have a direct and lasting impact on the issue of veteran transition and upward mobility. 
We offer the free programming veterans need as they transition from active service to college and the workforce.