Sheri Gross: "Student engagement is crucial to maintaining a thriving military community on campus."
Sheri Gross is the Manager of Veterans Services at College of DuPage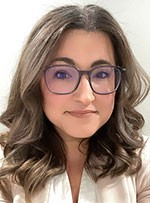 A military spouse herself, Sheri has worked with veterans and military families for over a decade. In addition to higher education, she has served veterans and their spouses in both inpatient and outpatient mental health settings and she continues to advocate for better care while breaking down barriers and speaking out against stigma in the military community.
Sheri is currently the Manager of Veterans Services at the College of DuPage, and is also the Northern Region Director at Student Veterans of America—Illinois, a nonprofit that rallies, equips, and empowers student veterans and student veteran organizations to maximize their potential as strategic assets through academic advancement, leadership development, career progression and civic engagement.
Sheri lives in Chicago with her husband, an Army Veteran, and their three children and two dogs.
I sort of fell into it—my degree is in mental health counseling. My first job was working with active duty veterans, and when we moved back home I was able to find a position at a 4 year private university working with their military population. I am so glad life led me to higher education and allowed me to still work within the military community.
In the time I have been in higher education, the military affiliated community has come a long way. Generally, maintaining visibility on campus can be a challenge, especially at a community college. Students are with us for such a short time before moving on to jobs or other institutions, so turnover in our student organization can be a challenge from year to year. Student engagement is crucial to maintaining a thriving military community on campus.
Being a spouse myself, I often find myself advocating for dependents on campus and in the community. There are many opportunities for veterans and those who continue to serve, but many times family members are overlooked. We add value to campus culture too, and I make sure to make that known.
Student veterans and many military-connect students are considered nontraditional students—they are adults, and many have jobs, families, etc. The balancing act is often difficult, especially for newly separated service members and their families who are also acclimating to civilian life. That coupled with possible transition issues (housing, jobs, mental health, etc) can make it extremely challenging for veterans and their families to succeed in higher education—that is where offices like mine can come in with assistance and resources both on and off campus.
A majority of students who come into or contact our office need help and guidance with processes—how to apply for education benefits, how to register, how to make sure they are certified, etc. Throughout the pandemic while remote, we often helped students find resources in the community that helped mitigate and difficulties they were having with finances, healthcare, childcare, etc. Our Student Veteran Association recently became active again as well, so it has been wonderful to engage with them as student leaders committed to civic and community engagement!
Outside of being in a student facing role remotely or in a hybrid capacity this last almost 2 years, for me it is the inability to be able to do more for our military connected students—from frustration with the VA to financial emergencies, often doing everything we can still doesn't feel like enough. Maybe it is the mother in me. I am fortunate to have amazing leadership on campus who understands our office is not just a conduit for students to use their benefits, but also a place of advocacy for our students. Despite my feelings of wanting to help more, we are able to do so much to assist our students in a multitude of ways.
I know our veterans and their families will continue to be an asset to the larger civilian community in the future, and I am hopeful that more people recognize that as time goes on. Being committed to taking care of our military community is vital to the success of our communities and our country as a whole, so investing in their success through education is a no-brainer.
In the future, I hope to see it become even easier and more streamlined to access educational benefits, military connected students feel more supported on campuses as a whole, and that more administrations have views like mine—that military connected students are vital part of campus and community.
Utilize campus resources, even as an alumni. Seek out non-profits and other community organizations that won't just help you in your job search or career path, but that you can also give back to. Networking and connections are such an important piece of the puzzle when trying to find somewhere to work, and your campus and community can and should be a jumping off point for those connections.