Alexander Prasadi: "Try your best, be open-minded, and be willing to learn."
Alexander Prasadi proudly served in the US Air Force for over nine years. A proud Fijian-American, first-generation veteran, and college graduate.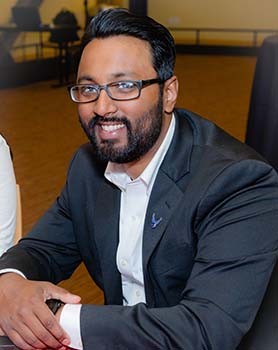 Originally from the Central Valley of California, Alex left for bootcamp a month after graduating high school. From there, he served for six years, active duty, as an aircraft maintenance analyst for Air Force Special Operations Command aircraft such as the CV-22B (Osprey), AC-130H, (Spectre) AC-130U (Spooky), MC-130H (Combat Talon II), MC-130P (Combat Shadow) and MH-53M (Pave Low).
Once Alex completed his contract, he transitioned to the reserves for an additional three and a half years while he began pursuing associate and undergraduate degrees. Since graduating, most of Alex's professional career experience has been centered around working with the military-affiliated community, advocating on their behalf, and navigating VA-related processes and procedures.
Initially, I hadn't even considered working in higher education. Growing up as a child of immigrants and a first-generation college student, careers in higher education were something that I knew nothing about. Higher education wasn't even talked about, not because we didn't see the value in it, but because my family knew nothing about financial aid, tuition, or the admissions process, so I opted to go the military route to help me pay for school.
After getting out, I started working as a VA work study at my local community college. From there, I was able to help veterans and their families get their benefits set up, educate them on the process and assist them during this challenging time in their life. I enjoyed the work so much that I became the president of my campus' Student Veterans Organization to better advocate for these students.
Once I graduated with my undergraduate degree, I worked for my local Congressman as a veterans caseworker overseeing all constituent concerns, cases, and complaints from veterans. Eventually, I was offered the opportunity to become the VA Certifying Officer for Stanford University. After working in this role for some time, modernizing our practices, and building rapport with our students, I was offered the opportunity to become a Fellow for the Office for Military-Affiliated Communities. While in this role, I was fortunate enough to be able to program for our military-affiliated students and perform a needs assessment for our campus and try to find answers to the following questions: "What is the current climate?", "What are we as a campus doing to support our students?" and "What can we do better?".
I think the biggest challenge military-affiliated students face while in higher education is due to the drastic culture shift from a regimented lifestyle to suddenly having an abundance of choices. It's great because these students can now pursue their passions, enroll in classes they are curious about and take advantage of internship opportunities. However, military-affiliated students can find it frustrating being in a class with younger students who are not taking the classes as seriously as they are. Coming from a highly structured lifestyle, having a limited amount of time to complete their degree due to only having thirty-six months of the GI Bill and feeling like you are starting your life later than most are all challenges that I constantly see amongst this population.
When I work with my students, I try to be empathetic to my students' situation and hear their concerns, and connect them to the best resources I know are available to them. I try to walk in with the mentality of "be the resource you wish you had at that time in your life" because I know how challenging this stage in their life can be. I know what it is like to get out, not be sure what you want to do, and being overwhelmed with the sudden abundance of opportunities that are now available.
I also try to educate our staff on VA-related policies and procedures, which will help them have more productive meetings with these students. I recently partnered with Columbia University's Center for Veteran Transition and Integration to host a military-affiliated cultural competency training for my campus. This was a personal win for me because many campus partners have great intentions and want to see our military-affiliated population succeed. I wanted to use my position as both staff and a veteran to have a meaningful, productive conversation on what we can do better for these students.
Many veterans on their way out of the military know they have the GI Bill but aren't always educated on its nuances or how to maximize their benefits (MHA calculation, Yellow Ribbon, etc.). So many students wait until they get out to learn about the GI Bill, the college application process and cycles, etc. I would really like to see active-duty leadership checking in with military members roughly eighteen months before their contracts are up so they can connect them with resources and begin preparing for the application process sooner. Most universities open applications once a year, and there is a lot of preparation that needs to be done to present yourself in the best light. The sooner we can help these veterans, the smoother their transition will be.
.
Ask questions and network! It's not feasible for one person to know every resource and opportunity, so do your best to maintain relationships – it might result in a great opportunity for you. I always tell my students, "It is not your job to know, but it is your responsibility to ask." Getting out and figuring out your life after the military is overwhelming, and we in higher education got into these roles because we want to support you as you start this next phase in your life. Please don't hesitate to ask around.
No one's life goes 100% according to their original plan so try not to get discouraged if you have to adjust your plan along the way. Try your best, be open-minded, and be willing to learn because it is better to be prepared for an opportunity you don't have than to have an opportunity for which you are not prepared.